happy valentine day every one >_<
ok here my quick update again.
I have life problem for 2-3 days then my time schedule so messy again.
then I will off still 16/02/09[dead line for kou chan's basara doujinshi. I am do 6 page for guest in her doujinshi.
I will do more 2 page for empty world when I done cover for Aizen x Gin doujinshi and 6 basara doujinshi.
After that continue to clear commission again and do Dogs anthology doujinshi with Usa chan.
Then no wonder if you not catch me online >_<"""
I really sorry to always busy and have life problem.
love you
panda
***********************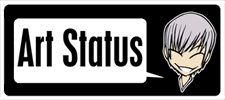 commissions :
close

[link]
art trade :
sorry dear I have not time
request :
close
gift :
if I remember na~TwT
My Life journal :
sketch/doodle/wip :
[link]


kiriban


close with out expire sorry