hi hi!
I just back from Comic Festa Malaysia XD
Thank you for visit my booth >w<
I'm sorry to go only one Date and leave con so fast TwT"
I need to catch fight because I should back to open booth on Thailand event on Sunday.
I'm really sorry for every one who want to commission me this year I can take only 6 pic "orz
Next year I will be there on both year I promise TwT"
I want to Thank many ppl who help me.
Thank kid chan to help use to print stuff. Sorry to bother you so much dear T3T
Thank sou sou to help me to carry my book to con
Thank suki chan to share booth with me and help me to sell poster on second day.
And thank zee chan and he bf too.
And thank for all wonderful ppl I met there.
Im sorry to not talking around much every thing so rush this time but I will be there again on next year for sure.
****************
Doujinshi garden update
have add DD9-10 , mouse pad and bookmark to shop too ^ ^
you can buy them online now
thank you
panda
***********************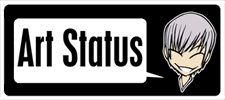 commissions :
close

[link]
art trade :
sorry dear I have not time
request :
close
gift :
if I remember na~TwT
My Life journal :
sketch/doodle/wip :
[link]


kiriban


close with out expire sorry