OK I have time to sleep 2 hours for tonight then I will not reply all not about this and... I think I write about this like hundred time.
then I up on Journal are better
OK My CC set just 2 type
1. not allow to use and most of them I already put water mark.
2. allow for share but not allow for business. And that is most of my gallery.
then just check them OK?
For allow to share work You Can
</u>
- use it as Avatar, icon, signature.
- blog/personal space[like my space or some thing like that] wallpaper, header, comment box etc.
- Use for your fiction
*fanart only*
- share on you place or web site but plz credit me.
- color my line art... you no need to ask me for permission on this.[plz credit me]
- use as wallpaper on your computer.
- use to do video clip
- use to do stamp

I not allow to use my work to do any business
</u>

for other question about using my work that not in above feel free to ask
thank you
panda
***********************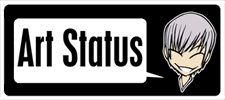 commissions :
close

[link]
art trade :
sorry dear I have not time
request :
close
gift :
if I remember na~TwT
My Life journal :
sketch/doodle/wip :
[link]


kiriban


close with out expire sorry