I sorry to not active. Have not reply note and etc.
My father just back to Bangkok for one week.[he just back on last Monday and will go back to China on Saturday night]
He go to work at China then I have not see him for 2 month.
Then This week I hang out every day.
I really sorry to not update not online T^T+
I'm really sorry
panda
***********************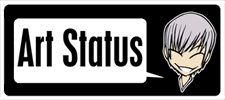 commissions :
close

[link]
art trade :
sorry dear I have not time
request :
close
gift :
if I remember na~TwT
My Life journal :
sketch/doodle/wip :
[link]


kiriban


close with out expire sorry