I sorry for very quiet
learn eat my life.
Btw, for ppl who try to invite me to facebook
I have facebook account but not use same e-mail on my font page.
I use my gmail account but I use facebook for play game only... have not do any update then you no need to add me na~ >_<"""
working on new renji shirt less fanart you will see some bleach fanart from me soon XD
love
panda
***********************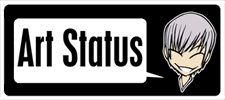 commissions :
close

[link]
art trade :
sorry dear I have not time
request :
close
gift :
if I remember na~TwT
My Life journal :
sketch/doodle/wip :
[link]


kiriban


close with out expire sorry