as you know I have not visit DA for 3 weeks and when I back...
I see have a lot ppl have problem with critique... [ OK maybe not a lot I just watch too much artist =w="""]
I know some time blame critique can make you annoy but.. if you don't like that just ignore that comment are easier than fight. Angry vs angry = nothing. Yous just use time for useless thing like full fill your ego.. or sometime you get nothing from it out of bad mood.
sometime I have see artist fight with commentator many reply and I feel like... 0.o""
And many time it end up on their Journal lol!
OK don't understand me wrong. I do not support to let artist act too self-confident.
But sometime some Artist need time to learn more and grow up. And they will see what they making wrong after that 1-2 year. Aum... like when you was young you think you have do master pieces but when you grow up you look on same pic and think that's very bad pic XD
and for commentator I think next time if you want to blame artist who don't accept that's they have doing wrong just be quiet[there are useless to fight with ego artist OK? 0w<] or show up how they can make correct work it easier than try to explain to artist by typing. A lot ppl here not use English in their real life[me too lol!] then some word can make ppl angry more than normal if they misunderstand you.
seriously sometime I know I draw out wrong but I still post it lol!
I don't want to be serious with something I like... aum.. This why I always say I not a pro because my thinking is very un-pro lol!
But I don't mind to get blame critique because as I said.. I am not a pro then I have a lot of thing that I must try to practice more.
And.. yeah I accept other ppl critique but I not accept to critique other ppl work na~ I not good enough to do that. LOL!
**well, sorry for my broken English again I just see a lot serious ppl in my inbox but I lazy to leave comment all lol![very lazy panda lol!]
don't serious on drawing much if you love it don't try to make yourself feel bad on it
love & peace
panda
***********************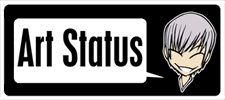 commissions :
close

[link]
art trade :
sorry dear I have not time
request :
close
gift :
if I remember na~TwT
My Life journal :
sketch/doodle/wip :
[link]


kiriban


close with out expire sorry