my internet cant visit DA for few month = =" I don't know why?
I think it start on April...
Then I give up to visit DA btw look like it can use now.
I sorry for commissioner I will Open note to check and continue to do work now... I sorry I have not save commission info in word doc. I use to open note on DA every time I gonna do Orz.
about flooding in Thailand I guess it will come to my home 2-3 if not they will pass my area but I already move myself to 2 nd floor [my room are on 1 st floor]
btw, I will go to AFA and CF this year see you guy there na~
***********************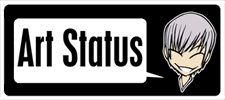 commissions :
close

[link]
art trade :
sorry dear I have not time
request :
close
gift :
if I remember na~TwT
My Life journal :
sketch/doodle/wip :
[link]


kiriban


close with out expire sorry