get tag from

RULES:
1. Post these rules.
2. Each tagged person must post 10 things about themselves on their journal.
3. At the end, you have to choose and tag 10 people and post their icons on the same journal.
4. Go to their pages and send a message saying you tagged them.
5. No tag-backs.
ABOUT ME:
1. I am a laziest artist in this world
2. I love Renji! lol!
3. if I online in the morning that's mean I still have nt sleep all night.
4. I knock morning 6 days a week.
5. I want to go American or Canada con at least once in my life TwT because a lot artist I like live there.
6. I hate to color so much TxT
7. I don't like to watching anime... Just like to read manga only.
8. I have dojinshi on to do list over 10 book *sob*
9. I like hentai as much as I like Yaoi/BL
10. I am boring person
Tag...
ah.... if someone want to do you can take it
***********************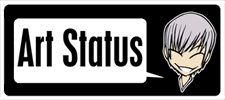 commissions :
close

[link]
art trade :
sorry dear I have not time
request :
close
gift :
if I remember na~TwT
My Life journal :
sketch/doodle/wip :
[link]


kiriban


close with out expire sorry